Vaikka vuodenaika on synkkä, yksi asia ei ole: nimittäin ICT Elmon keltaisena paistava asiakaslehti. Crue toteutti lokakuussa Elmon järjestyksessä neljännen asiakaslehden tiiviissä yhteistyössä markkinointipäällikkö Jenni Hyryn kanssa.
Lehti tuo tamperelaisen, mutta valtakunnallisesti toimivan ICT-talo Elmon palvelut asiakkaiden ja potentiaalien iholle myös silloin, kun tapahtumien osuutta on ollut pakko vähentää.
Otimme tällä kertaa 4000 kappaleen painoksen, ja osa lehdistä postitettiin suoraan potentiaaleihin yrityksiin Turun ja Helsingin seuduille. Nämä ovat strategisia kasvualueitamme, ja suorapostina lehti alkaa tänä päivänä olla huomioarvoltaan hyvä, Jenni Hyry perustelee.
Kun asiakkaalla on selkeä näkemys tarpeista, on suunnittelijan helppo viedä projektia eteenpäin
Tietoturvaa ja The Elmo Wayta
Lehti on tiivis katsaus ICT-alan ajankohtaisiin teemoihin sekä Elmon asiakkaisiin. Tänä syksynä on puhuttanut etenkin kyberturvallisuus ja tietosuoja-asiat, joten hallinnollinen ja tekninen tietoturva saivat kattavasti palstatilaa lehdestä.
Case-jutut ovat sekä tapa nostaa asiakkaat paraatipaikalle että kertoa Elmon yrityskulttuurista: The Elmo Waysta.
Hyödynnämme case-juttuja laajasti ja datan valossa ne ovat myös yksi luetuimmista sisällöistä nettisivuillamme. Lehti ikään kuin kokoaa yksiin kansiin referenssityön, jota muutoin tuotettaisiin pitkin matkaa.
20-sivuisen lehden toimittamisesta vastasi Cruen copywriter Riina Rautiainen, valokuvaukset hoiti Cruen digital media manager ja valokuvaaja Anna Salminen ja taiton toteutti AD Angela Koistinen.
Lehdenteko on prosessina hyvin suoraviivaista ja selkeää. Hinta määräytyy toimituksessa pitkälti juttujen lukumäärän ja mahdollisten kuvauskeikkojen mukaan, ei niinkään sivumäärän perusteella. Painettavissa lehdissä loppusumma jakautuu yleensä kolmeen: toimittamiseen, painatukseen ja jakeluun. Laadukas lehti on visuaalisesti  kiinnostava, joten kuvien kohdalla ei kannata pihistellä vaan panostaa laadukkaisiin kuviin.
– Riina Rautiainen
Mitä tehtiin?
Lehden rautalangan suunnittelu
Projektihallinta
Haastattelut
Toimitus
Valokuvaus
Lehden taitto
Painoyhteydet
Digilehti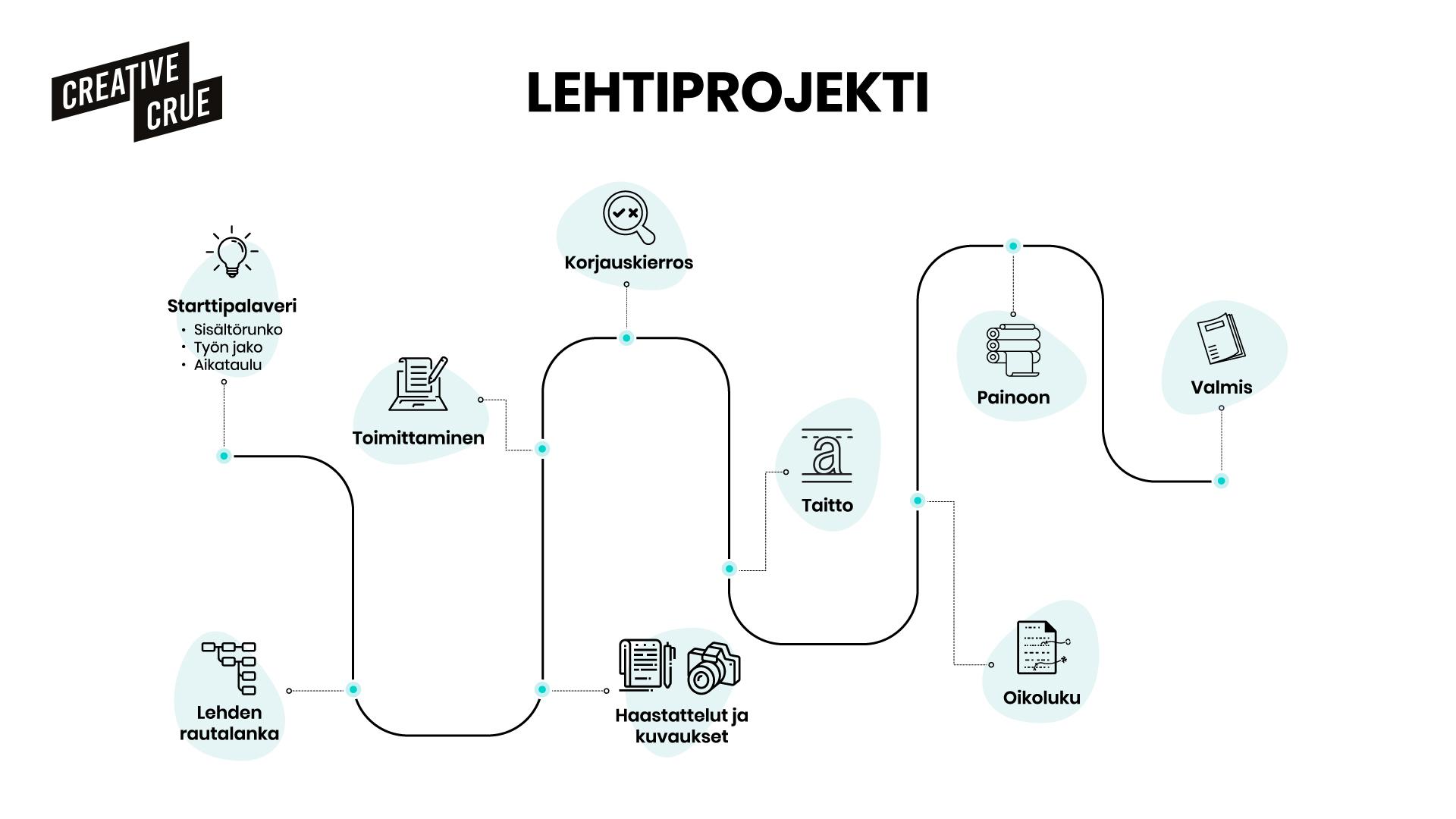 Asiakas antoi lehtiprojektille täydet arvosanat, viisi tähteä viidestä.
Todella onnistuneet jutut, brändi-ilmeemme mukaiset kuvat ja lehden taitto. Koko projektin juoksuttaminen oli itselleni varsin huomaamatonta: sai olla huoleti, kun tiesi, että taustalla tapahtuu. Kiitokset jälleen. Ehkä onnistunein lehtemme koskaan!
Käy lukemassa Elmon asiakaslehden digiversio täältä ja lue myös, miten Crue auttoi saattamaan Elmon yrityskulttuurin kansiin:
Elmon Kultt(uur)ikirja:  https://crue.fi/tyot/elmo
Asiakasarvosana

5/5

Toimitettuja artikkeleita

10

Kuvauskeikkoja

5

Painettuja lehtiä

4000